Services
At Perpendicular, we design beautiful and intelligent architecture to improve and create sustainable communities.
Our services help our clients turn a Brief into inspirational pieces of architecture, delivered by a consistent and trusted team and network of professionals.

We ensure our designs promotes community cohesion, while using modern methods of construction and sustainable materials that respond positively to the environment and local context.
Feasibility Reports

Our feasibility reports provide site analysis, opportunities and constraints to help our clients make informed decisions about possible development. We identify stakeholders from the outset and look for opportunities to maximise value and social engagement through our work. Our experience ranges from private developments and masterplanning services in addition to site specific feasibility studies for individual buildings including schools.
Planning

We have an enormous wealth of experience with taking projects through to achieving a successful planning outcome. We will always add value to maximise the site's full potential. We work alongside all stakeholders including the local community to ensure a smooth and positive planning process.
Delivery

We are able to deliver projects regardless of size and complexity. We are BIM capable and are happy to be Lead Desiger, coordinating the detailed design process on behalf of our clients. This can be on a scale of a house or a much larger multi-residential or educational project.
image copyright dRMM Architects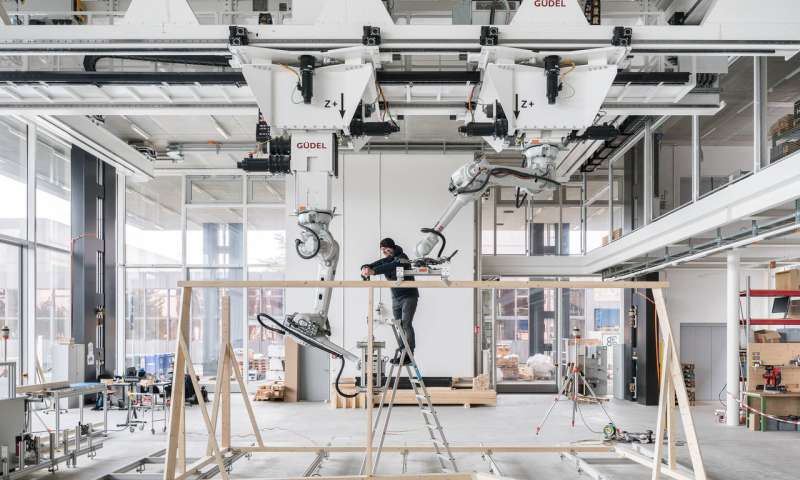 Robotic Fabrication Laboratory at ETH Zürich
Design Guidelines

With a particular emphasis on modern methods of construction, this service provides clients with independent and impartial advice on how they can best embrace modern methods of construction as an overarching strategy for their future builds. This service is provided in collaboration with BD Solutions.

Project Briefs

This service is offered to clients who need to create a site-specific Project Brief with a particular emphasis on the best way to incorporate modern methods of construction; reconnecting with nature using sustainable materials; and ensure the health and wellbeing of occupants.

Research

We offer a tailored service for specific research carried out in relation to our three main approaches; modern methods of construction, sustainable forms of design and health and wellbeing. We invite the best consultants to ensure our clients receive evidence based results.
Collaborators
To achieve the very best outcomes for our clients we collaborate with the best consultants in their field.
We understand the importance of maximising value for our clients and for this reason we have established a strong network of consultants we collaborate with on a regular basis. This includes structural, mechanical and electrical engineers through to specialist consultants, suppliers and academics.
The need to collaborate is particularly important when navigating the opportunities and constraints of modern methods of construction. To understand the rapidly evolving market, we have teamed up with
BD Solutions
who provide a bespoke service to an array of progressive clients.